Discussion Starter
•
#1
•
I took some pictures last night (Tuesday, 11/29). He's really adorable, but incredible hard work. I kept asking myself, was it this hard with Paris? I'm going to be honest in this post and spelling out the good, bad, and the ugly with getting a second puppy for everyone. Keep in mind that other experiences may vary, but I felt that it was important to give a first-hand look at the challenges to help others decide if they are looking for a second puppy.
Paris is from an AMA breeder in CA. If you recall BrittnyLot(sp?), another SM user, her little female Maltese and my Paris are littermates. I visited the breeder's home at 9 weeks, went back at 11 weeks, and brought him home by car at 12 weeks. I was unemployed at the time since we were preparing for our move from CA to FL, so I had lots of time to spend with Paris and ensure that he receives all the attention and training. We drove all the way from CA to FL (extended stops in New Orleans & Pensacola to visit friends). He was peeing/pooping everywhere. He had a baby playpen by Graco that we set up for him to sleep and be confined when he could not be supervised. Didn't whine very much (that I remember). When we finally arrived at our destination-Panama City-we could not find anywhere to live and were on a wait-list to move into our new apartment. We ended up living at Days Inn (no dogs policy ~ yikes ~ but we had no choice as it was a heavy season with many military families holed up in many of the hotels here). This is when our potty training became fruitful. He finally got it.
So Paris is now 1 year and 8 months old. We felt that he is well-trained and we could take on another puppy so Paris wouldn't have to be the lone dog. Charmypoo recommended a breeder while I was considering others, and I decided to go with her breeder after about 2+ weeks. Aries price was very fair, and he had a good lineage. As you know, my wait was over when I received my puppy this past weekend.
When Aries arrived, he (no fault of the breeder) smelled like poo/pee because of the long plane ride. When you ship a puppy, they don't go directly from point a to point b. They are actually routed to different hubs then to their final destination. So from WV to FL, he traveled to Cincinatti, and Atlanta. Poor little guy. If I had to do it all over again, I would probably drive up there and pick him up myself. But he wasn't hurt or anything, so that's good. Even though he smelled terrible and had dirty dirty fur/paws, I still picked him up out of the kennel and held him close to my chest during the ride home. My husband was driving and I just spoke softly to the puppy and vowing to take care of him until the end of his days. I know that, scientifically, they do not understand human language, but I hoped that my emotion, tone & love somehow got through to him. I think it did because he let out a sigh in my arms and I felt his body relaxing in my arms.
At home, first thing was a bath. Took out my CC products and washed him off really carefully in the kitchen sink. He looked BEAUTIFUL after the bath. I noticed how straight his coat was, even when wet, and how easily his coat dried by blow drying. I handed him off to daddy (husband) so they can bond a little bit and I jumped in the shower to freshen up. We introduced the two boys (Paris and Aries) and Paris gave us this look that said "traitors" and went under the couch.
We know he'd come around later, but that sure sucked for the first meeting. I had made a little enclosed area next to my side of the bed (we took the bed off the bedframe and let the spring box sit directly on the floor (closer to the kids & no room under the bed to pee / poop
) There was plush bedding I put down for him, toys and the pish pad). That's where we were going to let him sleep at night until he is potty trained. Then we'd allow him on the bed like Paris. He was really tired so we all went to bed early. No problems.
Next day, Daddy took Aries to the vet. Got 12 months supply of sentinel and a bottle of the spray frontline. Good heart, good knees, and no shots right now. Next appointment is on 12/9? (daddy knows the specific date) for the fourth shot. Our base vet doesn't charge for inspections, so we were only charged for the preventatives we bought. YES!
Since the first night, he and Paris have gotten a little used to each other and mainly it's just Aries trying to play with Paris, and Paris giving him the growl when he is a little too rough. They eat each other's food instead of their own, but only if I wasn't looking. Aries still leaves me little surprises (found some logs next to Paris' food bowl- how rude right?
). I know in my heart that he would eventually use the pish pads like Paris has begun to, but I just get this look (
) on my face when I find a wet puddle or poop. He cries LOUDLY when we are sleeping because he wants to be with us. I am so tired because I stay up during the night comforting him. Last night I just gave him and brought him upon the bed at 4am. I know that is going to be my downfall there
and shouldn't have gave in...
But no peepee in bed! Great! But there was pee pee spots on the carpet. Oh well... my fault. I left the boys some food (they have water constantly from the drinkwell fountain) and went off to work. Hubby will be home at 11:30 and I will be home at 12 noon to check on them. thank goodness i only work 5 mins away from home. Then after that 1 hour lunch, I will leave them to return at 5pm.
GOOD LORD! I am blabbing on and on! Ok, wrapping up- I wish I can take off work for 1 month to train and develope Aries. I wish I could've drove up instead of flying him. I get very little sleep now because of the new puppy. All things to consider when you're getting a puppy and even more so if the puppy will be a second one.
Time for the pictures. Sorry for such a long post. If it's negative sounding, I'm not. Brain's just exhausted.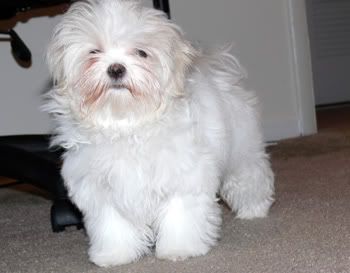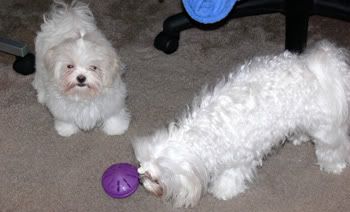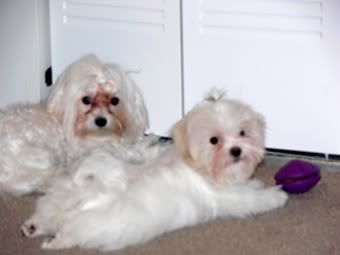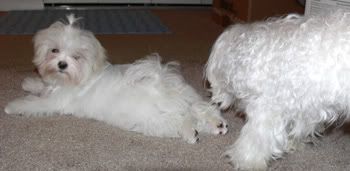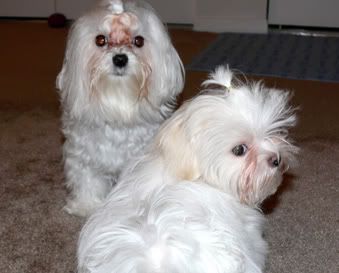 MORE STUFF FROM ME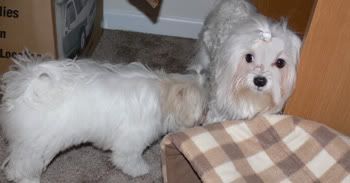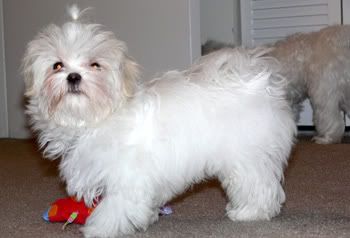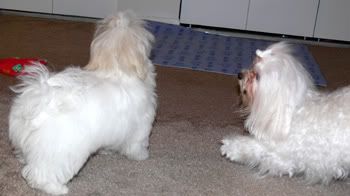 OOOH, we're receiving the stroller we ordered today. More pix later! But here is where we bought the stroller and it's the cheapest we've seen + NO SHIPPING & NO TAX. Brand new!
EBAY SELLER