Discussion Starter
·
#1
·
Being the good mom that I am, I took my kids to Comic Con in San Diego (ok fine, I wanted to go too
) This was our first year going and whoa, what an experience!!! Soooooooo many people there. I didn't dare let my kids wander off on their own because it the place is massive with just tons of people. San diego sure makes a lot of money during Comic con - even the La Quinta where we stayed jacked up their rates to $220 during this time. They have public transport but it was soooo crowded so we did the easy thing and took taxis. Maybe not the cheapest but I'm a fan of avoiding wall to wall people, if I can help it.
Thursday, we went to a few of the TV show panels, Burn Notice, White Collar and Psych. They gave away awesome tshirts so I was happy
My fave panel was Psych, love that show! And they had one of the guys from Tears For Fears doing an intro with them, so even better. :thumbsup:
The Psych cast
Friday, I wanted to go to the Bones, Joss Whedon and True blood panels but we made the mistake of not getting in line before the first panel so we were out of luck
But the kids were happy because they got to meet the cast of Ghost Adventures (their fave realtiy show) so that made their entire weekend
I don't watch the show but I really appreciated how personable and friendly they were.
Saturday, we got in line at 6am and got really good seats for saturday's lineup of panels. We saw the casts and crews of Chuck, Family Guy (with Seth Mcfarland, who is the voice of Stewie, giving a sing along to a Family Guy clip. He has an amazing voice!)
Also Futurama
the Simpsons (most boring panel of the weekend, guess after 20+ years, they don't feel the need to be entertaining)
the show V (dont' watch it and don't think i will)
Fringe (awesome show and awesome panel)
and the Vampire Diaries. Vampire Diaries was
awesome
, I just love that show!
Sunday, we got in line at
5am
to get good seats for sunday's line up, which was mostly for GLEE!! The lines and crowds were impressive, let me tell you. Of all of the panels that we went to, Glee has the most screaming and fangirling (and fanboying) of all of them and Marina was right there with them.
Left to right
Satana, Britney, Tina, Artie
Tina, Artie, Mercedes and Kurt
We also saw Smallville and Supernatural. This is Smallville's last season coming up so it was kind of sad, their last Comic Con panel.
John Schnieder and Tom Welling from Smallville. We were in the front row but I was blocked from half the panel so we moved back to get a better view.
Marina has never watched Supernatural but appreciated the hotness of the actors, LOL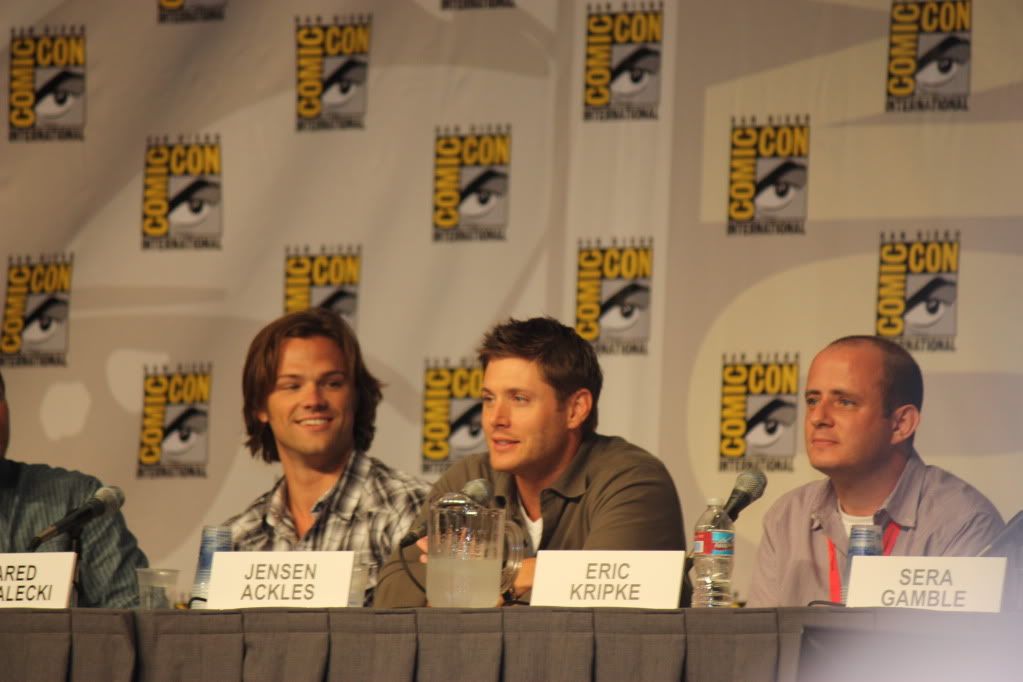 I wish I had brought my big camera all the days we went to the panels but it was just one more thing to carry around, so I only brought it the one day.
Marina is a new Buffy fan so she was excited to meet Clare Kramer who played Glory in season 5. She also had her pic taken with James Marsters (who played Spike) but I don't have it scanned.
Half of the people attending Comic con dressed up in costume, which was really fun to see! Lots of Anime characters and super heros. Unfortunately, some of the costumes were really bad, like this one
This one was so bad, i had to take a pic of it.
I have a lot more pics here, if anybody wants to see more of the panels
Login | Facebook
The hubby took care of the dogs while we were gone but that didn't include brushing, so I have some work to do! I only have two in coat and I've seen worse matting. I put them in heavy oil though before we left, so that might have heped. All in all, a fun weekend. I'm not sure I'll be back next year (mostly because i missed the Pacific Rim maltese specialty to go!) but it was a fun time with the kids!