Discussion Starter
•
#1
•
Happy Holidays everyone! Hope you all had a wonderful Christmas and are looking forward to celebrating the start of the new year in just a few days. We had a great Christmas, made even more beautiful by the presents our lovely Secret Santa buddies sent for us! We got to open them Christmas evening and had so much fun doing it. Bailey and Emma were exhausted by this time and we had a million people around us, LOL...so you'll have to excuse them looking tired and distracted in the pics! :HistericalSmiley:
Look Mom, it's a package for us! Who is it from!?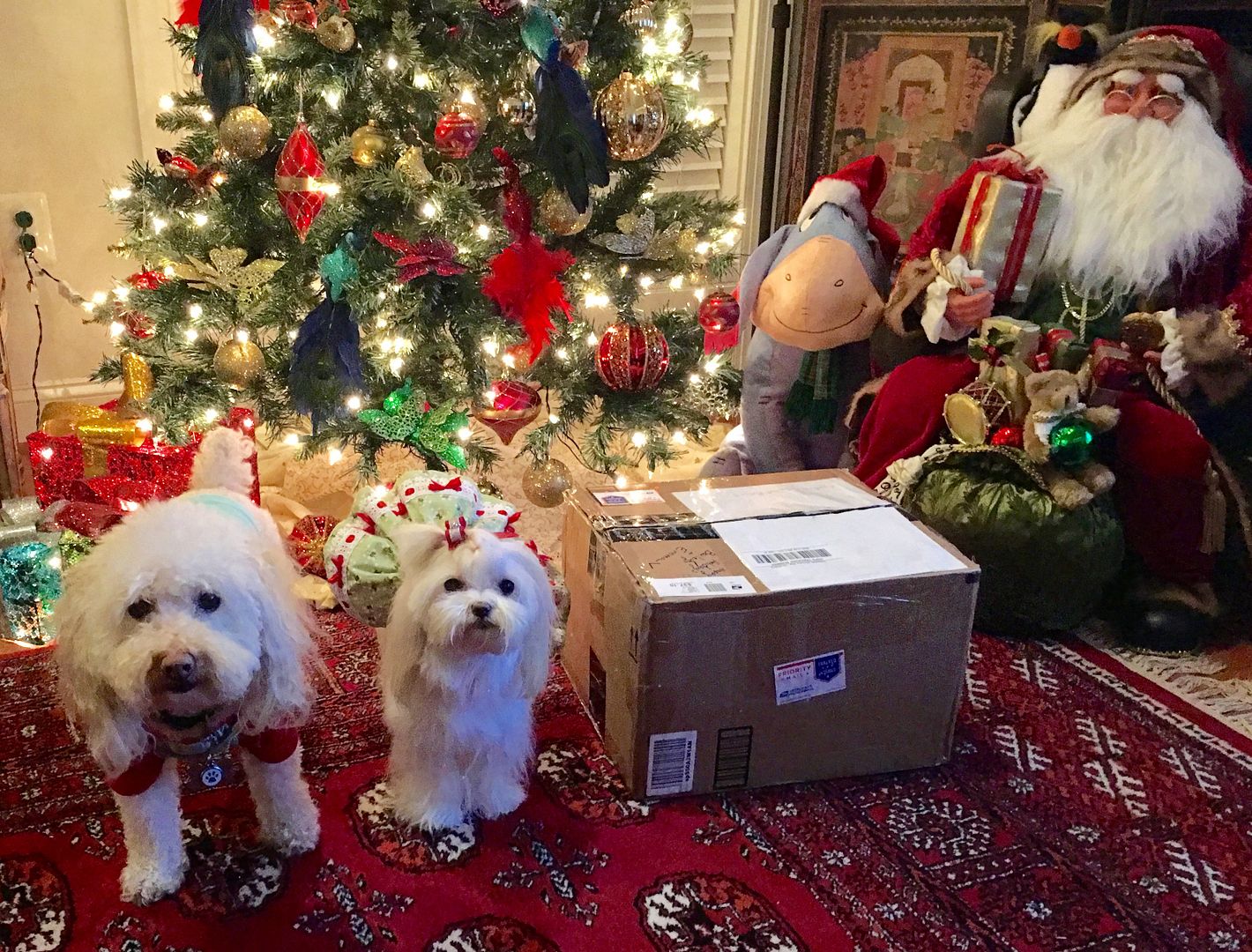 We were so super duper excited to find out that our Secret Santa buddies this year are...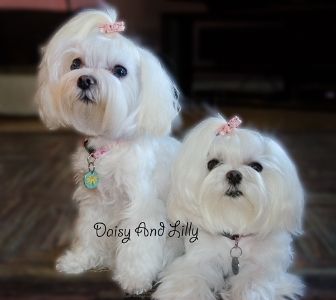 The beautiful Daisy and Lilly and their sweet mom, Cindy. They did such an AMAZING job picking out the most thoughtful and wonderful presents for all of us! :aktion033:
So many presents, all for us!
We got adorable blankets with Bailey and Emma's names on them! These are PERFECT because I was just thinking of getting new blankets to go in their new car seat!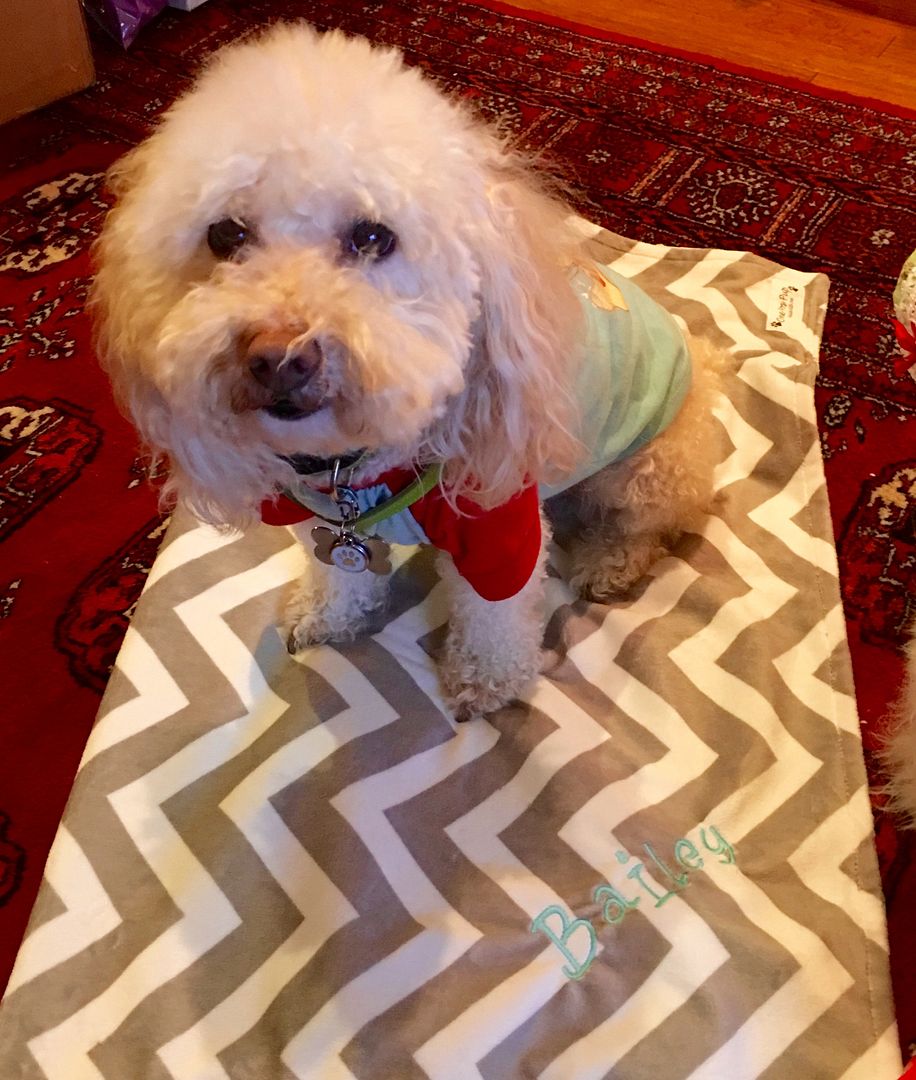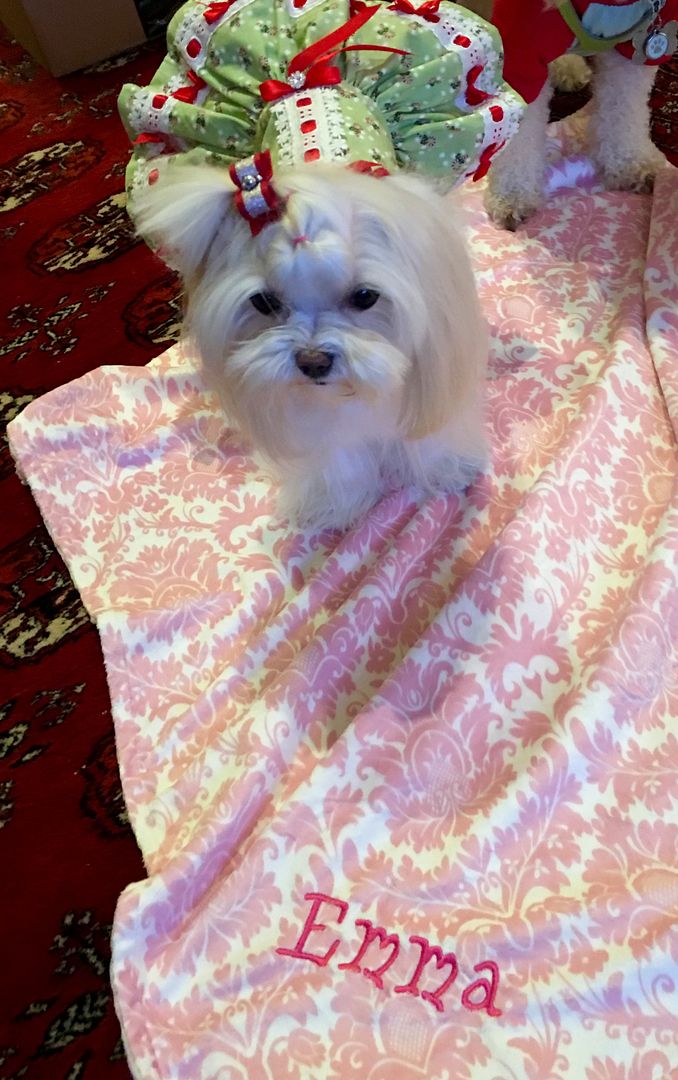 Emma instantly loved her blanket so much, she lay down on it and refused to get up!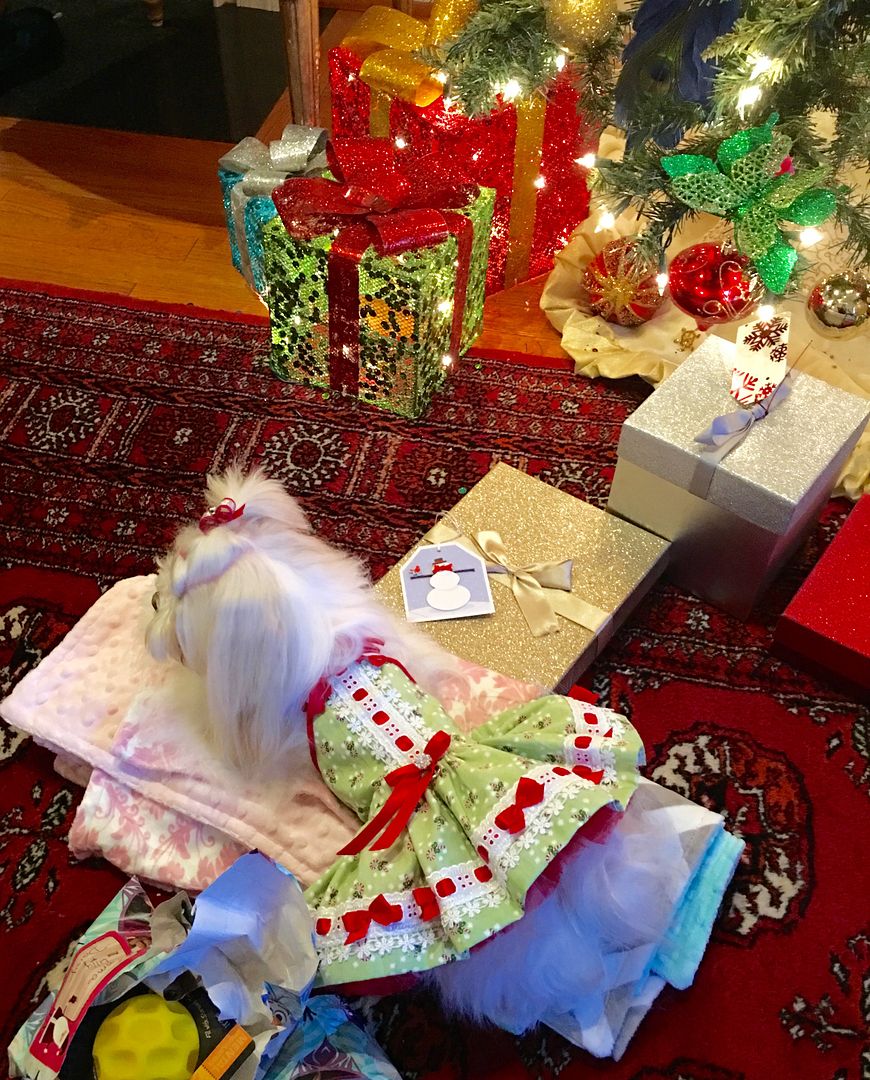 Then she realized there were more presents to unwrap! Toys!!!
A Tanner Togs dress and vest made beautifully by Marti!!! Yay! We love Marti's work so much!
Emma was so excited about her presents!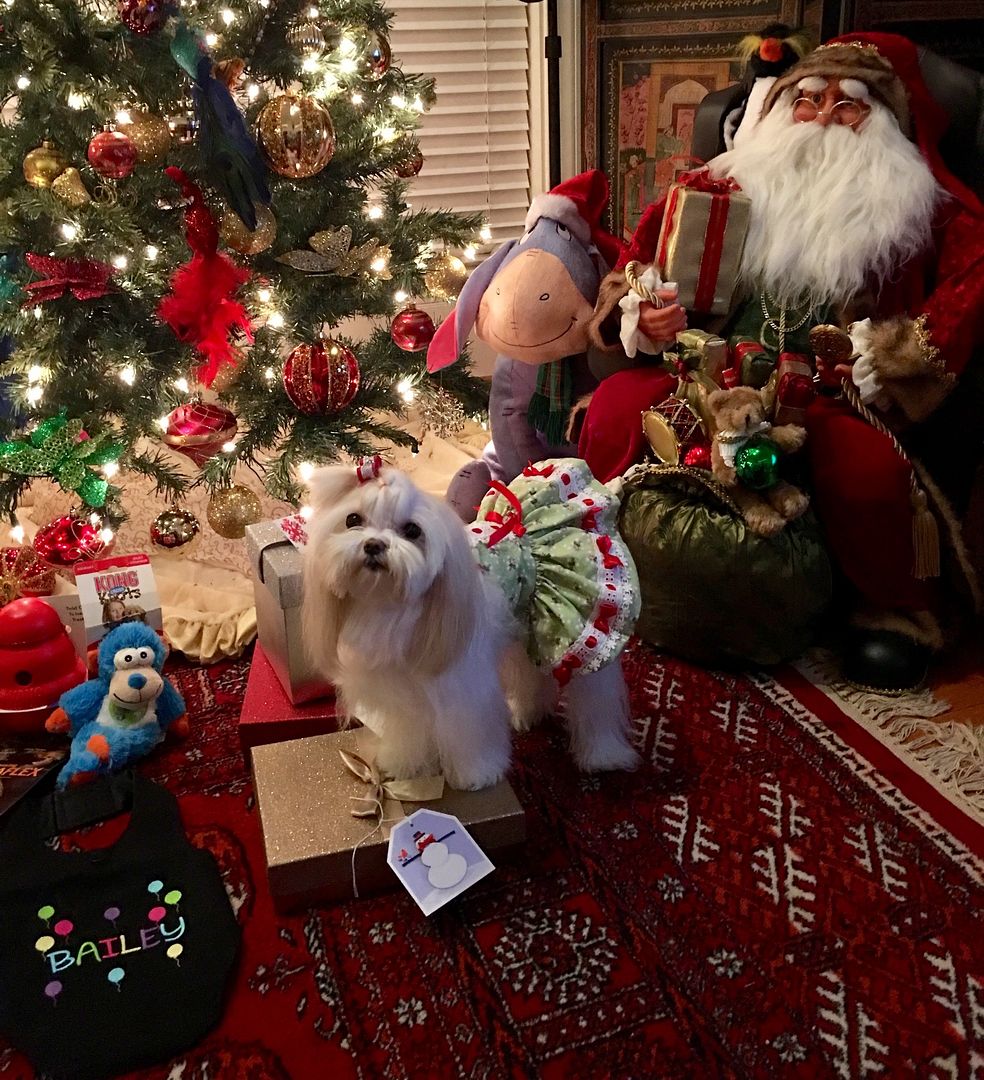 I think I screamed when I opened the present marked for me! Cindy framed my favorite picture of Bailey, Emma and me!!! Such a thoughtful gift! We had these pictures done a couple of years ago by Emma's sister Callie's talented mom, Susan and I've been meaning to get some framed but haven't gotten around to it. So I was so excited to get this...it now has a prime spot in my living room. Thanks so much Cindy!!!!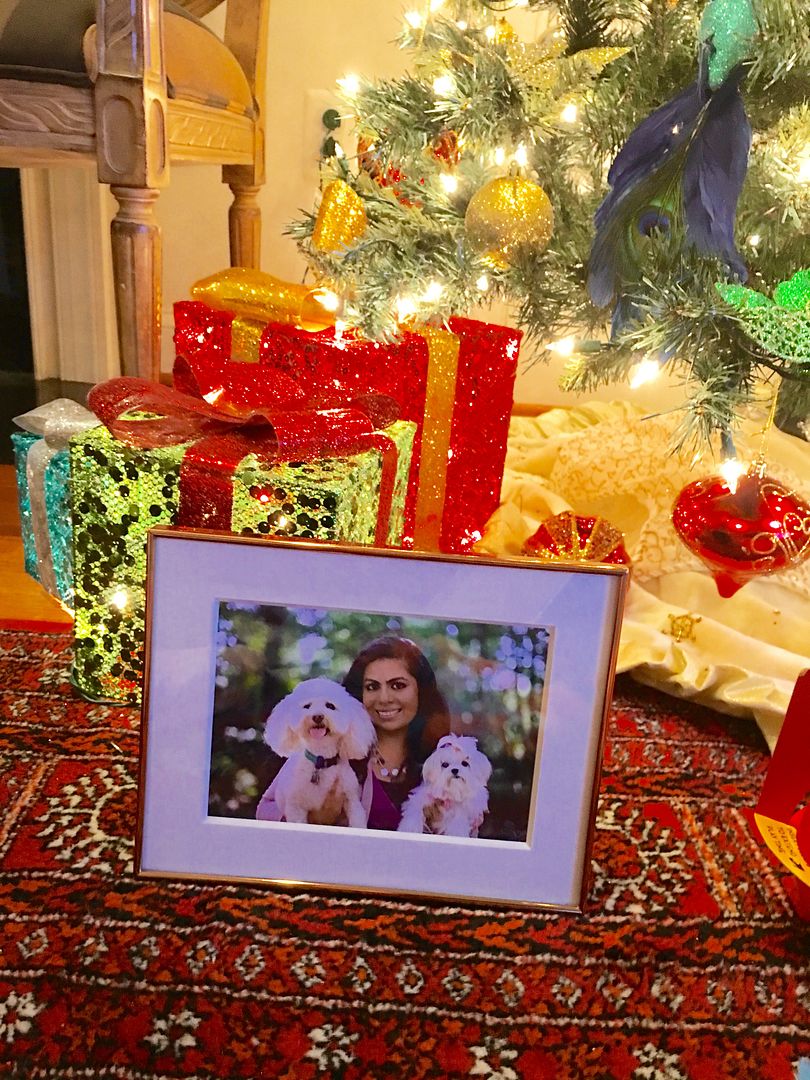 Bailey and Emma with all their wonderful gifts! Wow!!! They even got some treat toys which they really love playing with!
Thank you so so so much, Cindy, Daisy and Lilly! We loved everything you picked out for us! We really appreciate all the thought you put in to our presents and we will think of you fondly every time we use our new blankets and toys. You were WONDERFUL Secret Santa buddies...thanks so much! :chili: