Discussion Starter
•
#1
•
Remember Aunties, how I just wanted to stay all snuggled up in my bed today?
In case you missed it, here 's my post from this morning where, I was, just content to stay in bed all snuggled up.
http://spoiledmaltese.com/forum/64-picture-posts/108525-its-early-its-damp-soggy-outside-2.html
But boy oh boy, am I ever so glad that I did get up from my warm bed :chili: Mommy, says that she's very sorry, some of our pics came out a little blury :blush:, guess it's hard to take pics and keep an eye out on whatever Mia is up too :HistericalSmiley: Okay, I mean me
Well, during our stroll today
We got to see our friend Lilly the little pug, we always feel bad that she's behind that fence, but she's always happy to see us, and we are always happy to see her
:wub: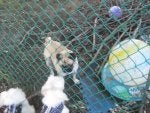 Then the best thing of all happened, BECKY, Becky was out with her Daddy, Oh I was so happy, Mia likes her too, but is just a tad more reserved then me
And this time, Becky gave ME kisses
:wub:
I love my little brother so much, but he's such a flirt
:blush:
Uh oh, Mommy, I think he spots another girl. I bet he is looking for his very favorite his Westie girlfriend.
Mommy, can we go in, I loved our stroll, but Leo is all lover today and I don't want him to get a bad reputation :wub:
Well, I didn't see my Westie girlfriend, but sure had a great stroll. So if there are ever days, you just don't feel like getting out of bed, those are the days, when some of the best things can happen. Hope all of you had a great day.
Lots of Love, Mia and Leo.