Several weeks ago, we got a big box from -------- IRELAND. Secret just knew it was for her because she used to live in Ireland, but Breeze said it could be for her because she lived in England and showed in Ireland too.
When we opened the box, it was definitely for Miss Breezie Boots.](Breeze says "Sees, it's even gots my name on da card".)
Oh my goodness, what a wot of prewsents and days all for me. And days from my boyfriend Milo. He's soooooooooooooooooooo handsome. :wub: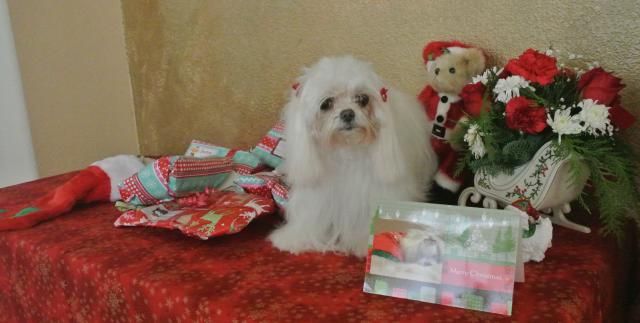 First I gots some toys -- den some more toys.
And den I gots some clowes. I wuvs dis sweater -- and it's reawwy cold in New Mexico right now -- a high of only about 32. Burr!!
Mom says I wooks very cute in da sweater.