Discussion Starter
•
#1
•
Oh the poor babies. Yesterday, was bath day, and hubby had them up late the night before, so they were tired little pumpkins. But I didn't realize how tired they were, till after I started taking their pics
, poor little things.
This is dear Mia, in Marj's gorgeous Holloween bow :wub: I love the bow. As always Marj, :thumbsup:
And dear Miss Mia, in another beautiful bow creation by Marj. I love both bows, so just had to try both on Mia. Bless her :wub: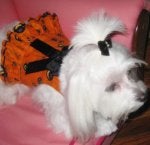 Oh kisses my sweet sister , you look so pretty. What :w00t: Holloween isn't a kissing holiday?
And off to sleep my two went
:wub:
Bless their little hearts, they were so tired. So, I just snapped a couple of more :blush: and then undressed them, and let them get their sleep.
My sleeping pumpkins :wub:
Hey, Mia, wake up, I think it's almost trick or treat time :chili:
Dear Aunties, could you please let us know when it really is Trick or Treat. I'm all better now, and don't want to miss this special day. Lots of Love, Leo
Thank you Aunties, I think Mommy is a day early. Auntie Marj, thanks for the most beautiful bows, I LOVE them. :wub: Lots of Love and licks to all, Mia (p.s. I just told Leo that Holloween isn't a kissing holiday, so he keeps his mind on getting treats, and not kissing as his trick
, Love Mia.)