I just brought in both the Junior Pyramid and the Cat Pyramid from Nina Ottosson and after looking at them both, decided the Cat Pyramid might be the better choice for Jett and Callie. As you can see from these videos, Jett prefers to observe. lol
Just click on the pics and it will take you to photobucket to view it as a video.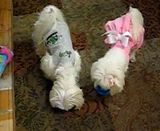 I actually think Callie would do alright with the Junior Pyramid as well.
Nina Ottosson Cat Pyramid
Nina Ottosson Dog Pyramid Jr.
For the treats, I used Dog Chewz NYC Toy Temptations. You can break them in half to make it easier or leave them whole for more of a challenge. They come in 4 flavors, Carob Cheesecake, Pizza Mutt, Apple Cheddar, and Chicken
Parmesan
. They've been written about in the Whole Dog Journal Twice now for being a low calorie healthy treat.
Toy Temptations