Discussion Starter
·
#1
·
Hi everyone, I'm a first time owner of a beautiful baby girl named Petroushka. I named her after one of Stravinksy's greatest pieces, "Petroushka" (I'm a violin performance major and a huge classical music fan haha).
So far, I'm loving being a new mom!!!!!!! She's amazing. I got her last week at 8 weeks old and she's been such a good puppy!!! She's been peeing and pooing in her potty pad consistently (only about 1 or 2 mistakes a day), plays well by herself, is eating pretty well, no longer cries when we leave her for alone time or to sleep at night...it's been wonderful! I love taking naps with her on the couch or having her sleep on my lap while I watch tv.
The only problem we have with her is biting and chewing cus she's obviously teething and being a puppy. I started using a water spray bottle yesterday (got tired of getting no responses from "NO!"s and ignoring and time-outs in the kennel) and so far it's been extremely effective. She no longer bites our hands everytime we reach for her (it doesn't hurt at all now, but I really don't want her to get into that habit). Now when we say "NO!" even when we don't have the squirt bottle, she hesitates and stops what she's doing. Well, usually she stops. Haha. But if she so much as sees the squirt bottle, she stops immediately!! I really hope this lasts.
So far she's learned how to sit and comes when we call her. I'm hoping to teach her "stay" and "drop" (whatever is in her mouth). Hopefully she'll learn this soon!
Here are some pictures. I know this sounds weird, but I kind of like her tear stains. Haha.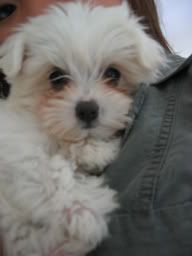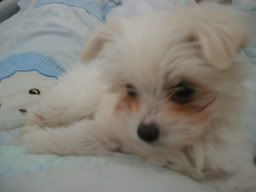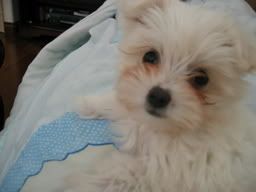 She loves to put her face in my elbows and armpits and sleep! haha.
And my favorite picture: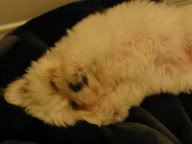 She was licking her paws while she was lying on her back and she fell asleep with her paw still in her mouth so it looks like she's sucking her thumb while taking a nap!!! so cute.