Went to go pick up my kids from school and there was a little yorkie (or silky, I can't tell which) running around by my car. Marina, being Marina, went to go pick him up and he's obviously very used to people. Kids were kicking him and he has no concept of street safety so we brought him home with us. Just what I need - another dog here!
He looks younger, is matted up but toe nails are short.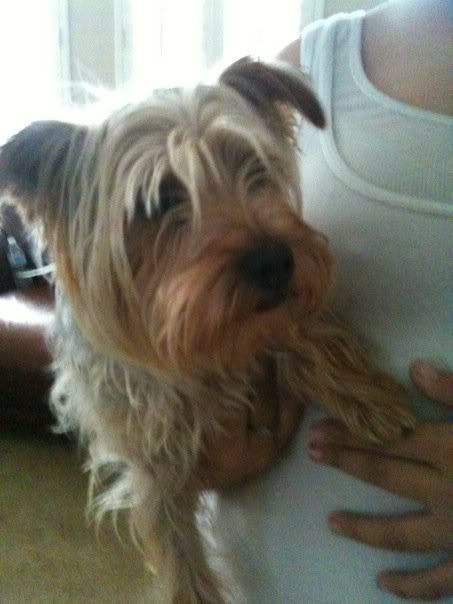 Here is a pic of him. I put up signs by my school and put ads on Craigslist and Fidofinder - am hoping someone claims him soon!
He is NOT NEUTERED. :smilie_tischkante::smilie_tischkante:I have him in an enclosed pen in my dog room (jumped right out of an xpen) I have 9 week old unvaccinated puppies here and it makes me nervous, so I can't have him 'walking' anywhere that they will be so he is not and will not be 'introduced' to my other dogs. LUCKILY he's fairly quiet. I took him to the vet and had them scan him for a chip - he's not chipped and he wasn't wearing a collar. more with the :smilie_tischkante:
I really hope his owners call soon! And you can bet i will mention having him neutered. I can't tell what breed he is because he's not a good representation of either a yorkie or a silky. I'm just glad none of my girls are in heat right now!