It's my birthday!!! Hi! It's me Jett. Today's my birthday and I'm 4 years old! And guess what, mommy told me it's also the store's 2nd birthday month. We officially opened Memorial Day Weekend , 2008. Guess a lot of good things happen in the month of May. So mommy asked me what I wanted for my birthday. And you ...know, I have so many things already I really don't need anything new. And I thought it might be nice to give all my friends something for my birthday. Last summer a poor deer ran out in front of our car and mommy couldn't stop in time. It was soooooo scary. But both me and my sister Zoe were safe and not hurt due to our car booster seat. And Zoe & I want all of our friends to be safe too. So we're putting our Animals Matter Companion Booster Seats and our LA Rider Booster Seats on sale for the rest of the month of May.

These are some of the reasons we LOVE the car booster seats from Animals Matter. They have a patented design so the bottom of the booster seat fits really nice in bucket seats. They don't have just a flat bottom. And they are designed to be not as wide, but deeper. So it's still roomy for us, but fits better in the bucket seats and doesn't take up the whole backseat. Also, it does not have that faux lamb's wool lining that can really make us hot when the sun comes pouring through the windows. That faux lamb's wool stuff made us really staticy and often caused matts. And the depth of the well we sit in is still high enough for us to see out, but deep enough to really protect us. It's made of upholstery grade foam so the ledges are strong enough to support mommy when she leans on it. So it won't lose its shape and fall in on itself after awhile. Both Zoe & I love to rest our heads on the ledge. Soooo comfy. And it has an upholstery grade fabric slip cover. But my mommy's favorite thing about these booster seats is how easy it is to seat belt into the car. Our old booster seat she had to thread the seat belt through a channel under the booster seat and she said it was designed for someone with stick arms. Don't know what that meant, but now she doesn't mind at all if she has to move our car seat to a different car. We also love that there is a special clip for the shoulder strap for the car seat belt for added security, and more importantly to us, keeps it out of our way.
Here's a picture of the Animals Matter Companion Car Booster Seat. They are available in pink too!
And here's a picture of the LA Rider Booster Seat. It's available in black or khaki.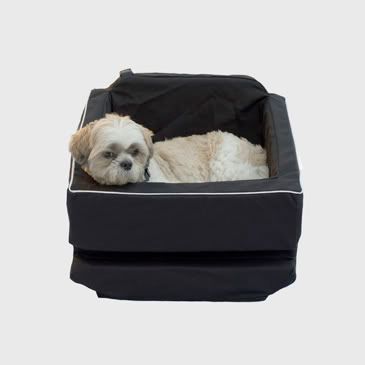 This is a picture of some friends who come to visit me at the store, Molly Marie & Kiki Sue. They are in the LA Rider Booster seat and are wearing ToniMari's Spring Plaid Harness Dresses.
:wub: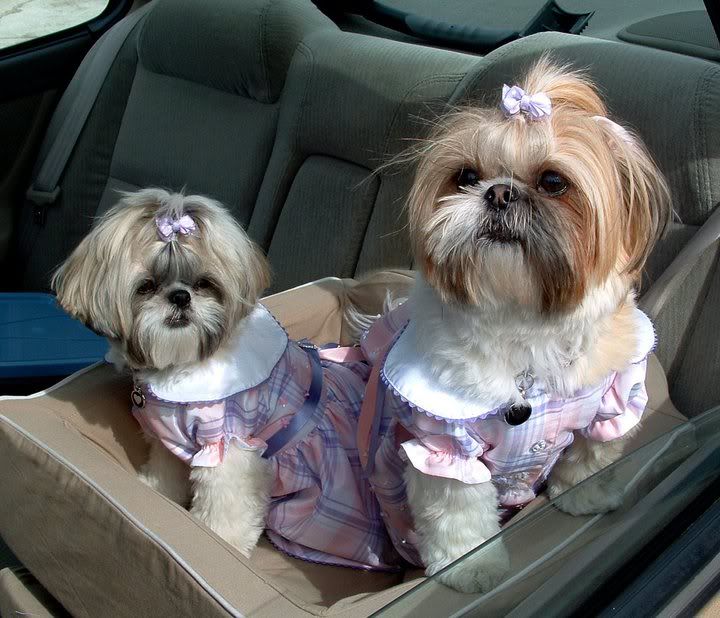 Just a reminder, if you can't turn your front passenger airbag off, it's safer for us to be in the backseat. Here's a link to the Companion Car Booster Seat with the Rhino Suede Slip Cover. This is the one we have.

http://stores.pamperedpetboutiquellc.com/-strse-657/Companion-Car-Booster-Seat/Detail.bok

And here's a link to the LA Rider Booster Seats. They are the same design and construction as the Companion Booster Seats, but have a Poly Cotton Twill fabric.

http://stores.pamperedpetboutiquellc.com/-strse-648/L.A.-Dog-Rider/Detail.bok



Hope everyone has a great month! Mommy, Zoe and I plan on celebrating all month long! Hugs and kisses to all my friends! ♥

THIS IS AN ON LINE SALE ONLY IN HONOR OF OUR 2 YEAR ANNIVERSARY AND JETT'S BIRTHDAY!! (AN EXTRA SHIPPING FEE MAY OCCUR ON THE LARGER SIZED BOOSTER SEATS DEPENDING ON YOUR LOCATION.)



Oops....should have mentioned that the booster seats are marked 15% off. And you can still use the code SM10 for an additional 10% !!