Discussion Starter
·
#1
·
...and wanted to let you all know what I've been doing to keep so busy I can't even keep up with my SM family.
This past month I've been renovating the new store, packing up the old store, and moving! Friday was my first official day of being open in the new store so..... I'm back!!
Here are some pics to show you what I've done. Hope you enjoy them cuz there are TONS!
This is one view of the store before I did anything to it. Pretty dark.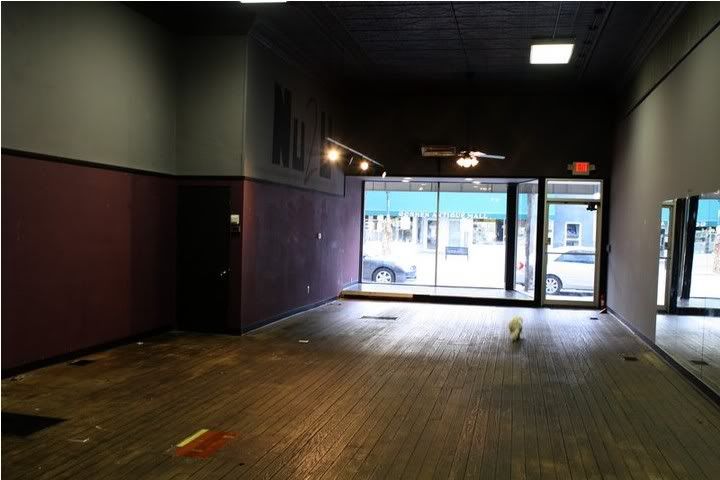 The ceilings are so high that I was even at times on a ladder on TOP of the scaffolding! They are the original gorgeous tin ceilings and I hope...if all goes well...to take down the ugly fluorescent lighting and put some beautiful time period lights.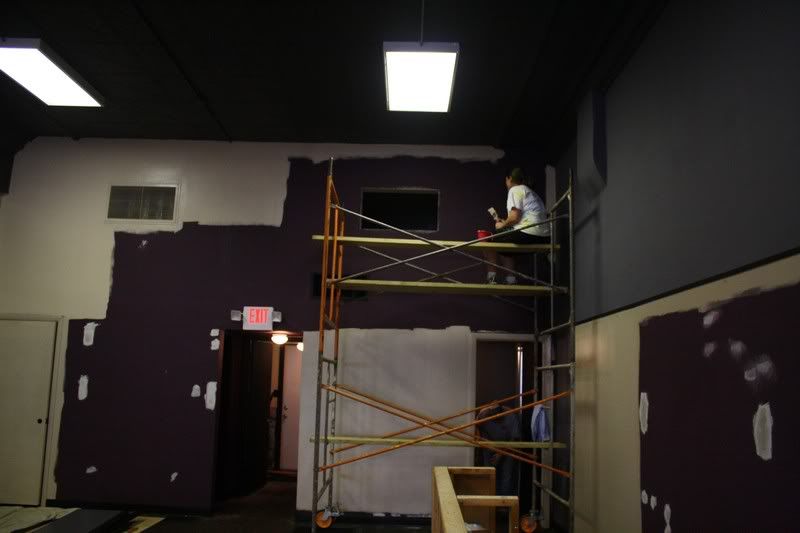 This is mid-paint job. I was soooo relieved when I could tell how much the new paint was going to light up the place.
And now we'll start with the finished tour.
This is the new awning and what the front of the store looks like.
Same view from the back of the store looking towards the front of the store in my 'before' pic.
Looking towards the back of the store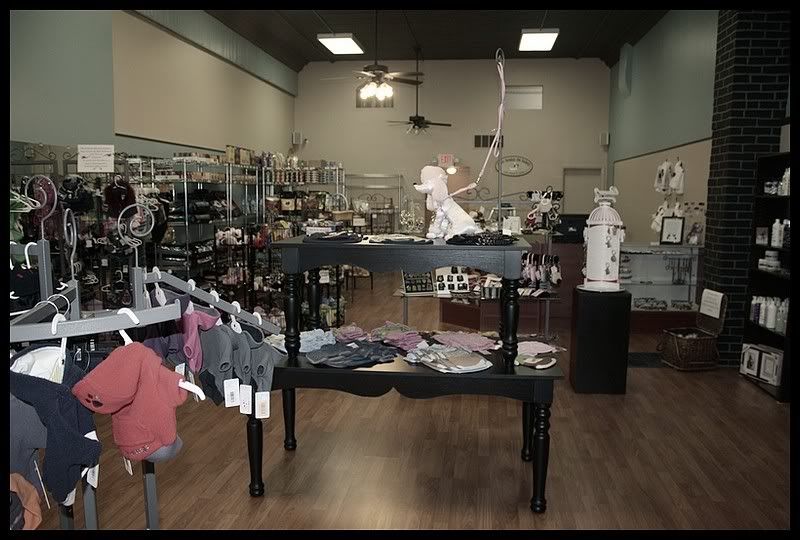 The beginnings of the food area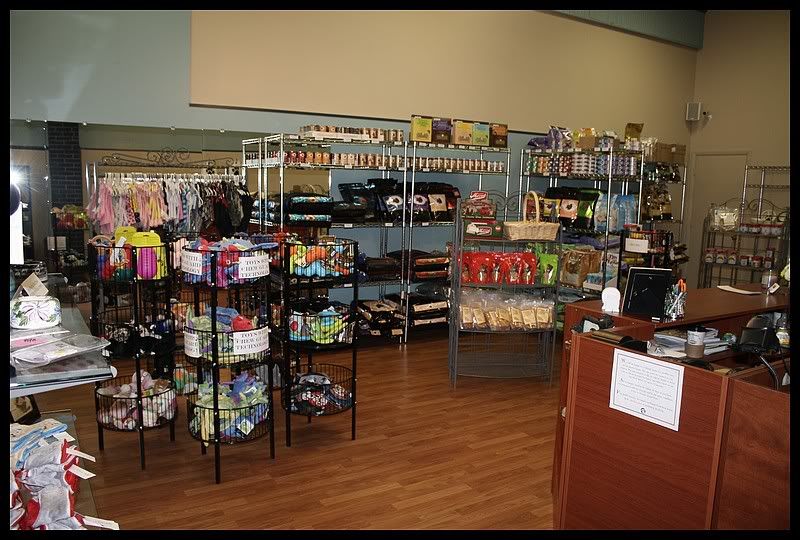 Looking towards the south side of the store in the middle of the store. You can see some of my beds on the right and on the left are my grooming products, collars & leashes, and Apawthecary area.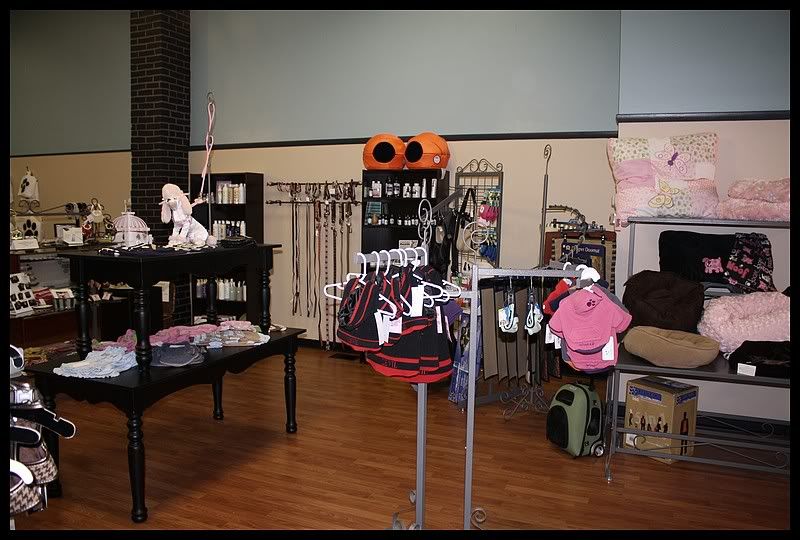 Where Jett, Callie and I hang out most of the day. See the gorgeous Carnation Malt on the counter that Tammy, Benny and Emma sent? It's still looking as fresh as the day I received it!
The bakery area. There are two bakery cases but the other one wasn't filled yet so I didn't take a pic of it. They should be completely filled this week.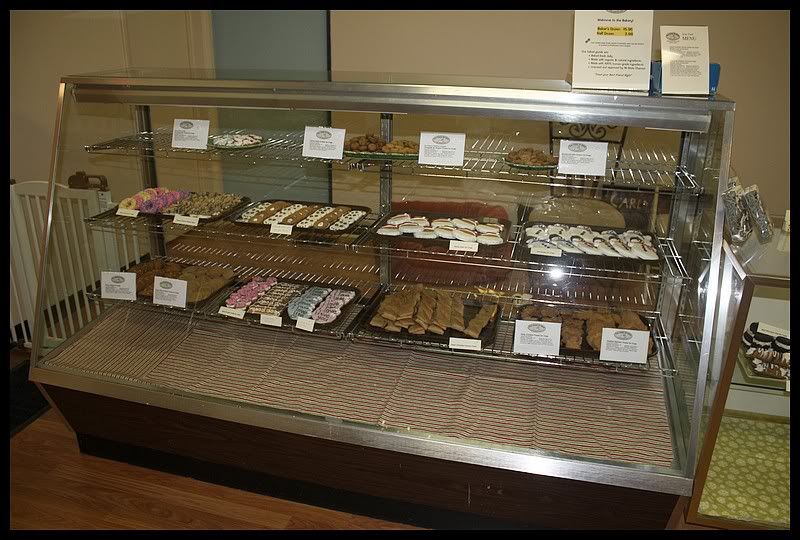 And my first display window in the new store. View from the outside:
And view from the inside: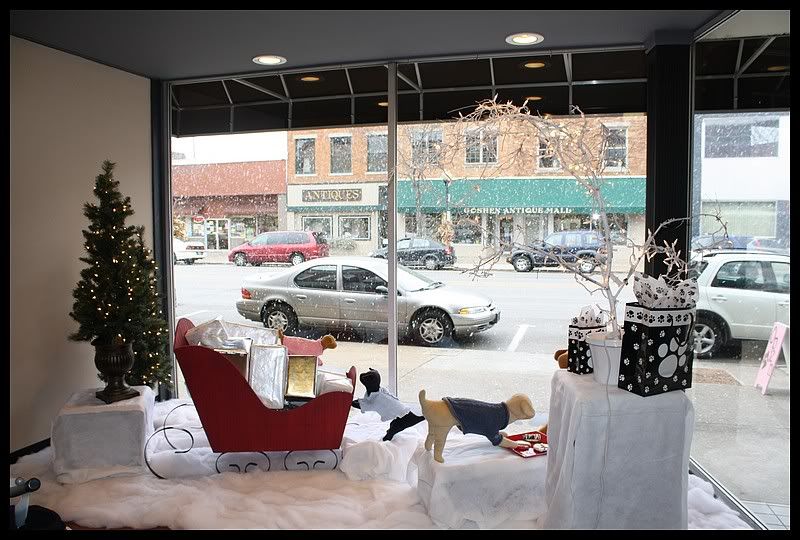 And last but not least, my two precious little helpers Jett and Callie. For some reason they want to hang out right behind the bakery case. lol
So I hope you are all up to me making a pest of myself on here again because hopefully things will get back to a normal routine! I've been living on approx.3-4 hours of sleep a night this past week and a half and am enjoying my first day off in over a month. Starting next Sunday, downtown Goshen is promoting their 'Shop outside the box' program where all the downtown stores will be open on Sundays to entice people out of the big box stores and to shop local stores downtown. So I'll be working 7 days a week from then until Christmas. Soooo....I think I'll go take a nap! :thumbsup:
Love you all and hope you still remember us!
xoxo
Crystal, Zoe, Jett & Callie