Discussion Starter
·
#1
·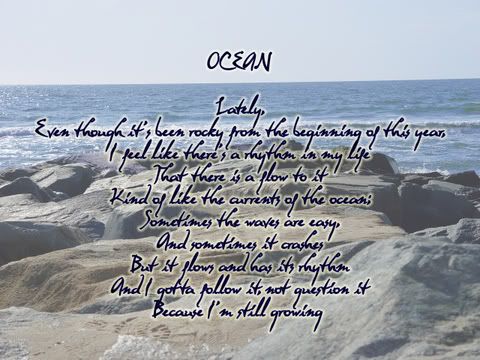 I took the picture and wrote what's on there. I wrote this years ago. It not really a open. My cousin asked me how I've been doing because I went thru alot. We were chatting online. I told her I was going to be ok and I elaborated. And that just came out of me. It means alot to me esp. because I said it to her. Also the picture is of my VA trip. I went to see my cousin and my vacation started out not too great. hehe. And then her friend and I decided at 3 o'clock in the morning to drive 2-3 hrs to Ocean City to simply sleep on the beach. If you have never slept on a beach, you don't know what you've been missing.
Well, Jaimie did all the photoshop work and put the 2 together for me! She helped me with color changes too.
I JUST WANTED TO SHOW IT OFF AND SAY THANK YOU, JAIMIE...Ya Buttface(inside joke)!!!!!!!!