Discussion Starter
•
#1
•
Evewy Fanksgiving, me (Josey), and brudder Cody, and sissy Mandy go to Uncle Fwed and Aunt Birfa's house for dinner. Mommy dwesses us girwls up in pwetty dwesses and bows and we get to eat lots of goodies. Fank you to Des at Toni Mari and Marj fowr making us such bootiful dwesses and matching bows for da holiday. :ThankYou:
Mandy….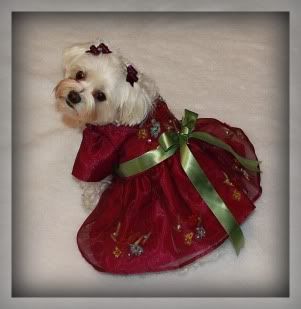 Josey…
Here, you can see the bow….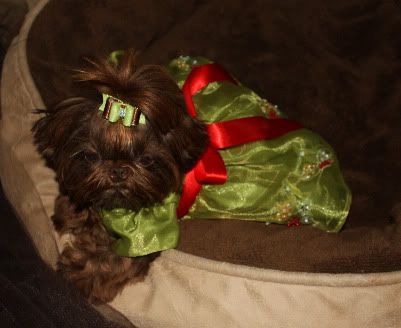 Cody….he wikes to be comfy.
It's me Josey again.....I must confess, I don't wike going to Aunt Birfa's house for Fanksgiving. She always wants to pick me up and sqeeeeeze my cheeks. When I see her hairy wegs and orfopedic shoes coming towards me, I run under da kitchen table to hide fwom her! :hiding: (Sowwy, Aunt Birfa, but, doggies don't sugar coat it. We tell it like it is.) I twy to make myself weally widdle as her hands and arms are swinging back and forth twying to gwab fowr me under da table. Mommy calls fowr me and den makes me come out. So, as Aunt Birfa is squeeeeezing my cheeks. It's da same fing evewy yeawr…..she calls me "Jor-sey, Jor-sey, what kind of pet are you? Well, my memory escapes me once again, Jor-sey. But, you sure do look like a ….aaaa…..oh, Fred, what are those things we see on tv?" "Yes, Jor-sey, you look like a Ferret." :w00t:
I do NOT wook wike a Ferret! I don't wook wike one, I don't act wike one, and I certainwey don't walk wike one, eifer!" The firwst time Aunt Birfa said dis. Mommy choked on her diet Coke and had it all ober da frwont of her. I, on da odder hand, didn't find one bit of humor in dat statement, whatsoeber!" Den, Uncle Fwed can't heawr a darn thing all day. But, he can always heawr Aunt Birfa and da Ferret statement. He chimes in wif, "NO, little Jor-sey looks more like a baby Buffalo!" Hahahaha, in his deep voice. Oh my dawg! I do NOT wook wike a buffalo! Oh yeah, mommy is bwinging a ferret to your house for dinner today, no wait…she's bwinging a buffalo ober fowr dinner! Oh my dawg…I'm in da house of horrors! :faint:
Do I wook wike a Ferret or Buffalo?! :huh: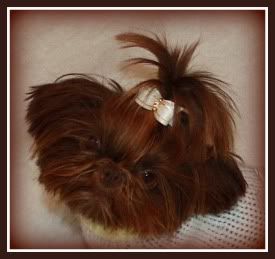 All da men sit in one room together. Den it's da same conversation evewy yeawr wif Uncle Fwed. He says, "Those men in those space suits….." Gwampa will interrupt and say, "you mean, astronauts, Fred." Uncle Fwed repeats himself, "Those men in space suits have landed on the moon. Why don't they land on the sun?!" :blink: Oh my dawg! Where did he go to school?
In doggy school, even we know da sun is a big ball of fire! Gwampa says, "Fred, it's a little warm there." Uncle Fred replies, "what?" Gwampa says, "Fred, it's a little warm there." Uncle Fred replies again, "whaaaat?" Gwampa says, "FRED, IT'S A LITTLE WARM THERE." :smilie_tischkante: Oh my dawg, I'm stuck in a fun house wif no exits! :smhelp: Also, Uncle Fwed NEBER opens his eyes….ever! But, he dwives all ober da country. :w00t: He says, Aunt Birfa navigates him. Scarweey.
Hope I'm neber on da woad enwoute for tweats win Fwed is dwiving! I've neber seen his eyes open. Twue story.
Cody sits on daddy's lap the whole day. If Aunt Birfa tries to pick him up, he growls and shows his pwetty white toofers. He tells me it works pwettty well fowr him for da day. :smrofl:
If Aunt Birfa tries to pick up Mandy, she will instantly collapse to da ground, yelping loudly. It sounds just wike she got hit by a car. :HistericalSmiley: It fweaks Aunt Birfa out! She runs off in da odder room telling mommy dat dar is somefing vewy wrong wif her dogs.
Mandy has dis down weally good.
I've practiced and I'm not good at da growling or pwaying hurt. So, what should I do???? I need a getaway plan of action. I need help wif a plan. Pweeze help me! Happy (early) Thanksgiving!