Discussion Starter
·
#1
·
For two years, I begged my parents to let me get a little white puppy. I begged and begged, and they refused. They didn't want anymore animals, no more messes, just no puppy. Finally, after I graduated this May from college, I was able to convince my parents that right now would be the perfect time to get a puppy. I would be able to potty-train it during the summer and obedience train and take all the puppy time it needed before I got a real job and wouldn't be able to do that. So that is how I got Codi.
My parents fell in LOVE with Codi. They absolutely LOVE him. When they went on trips this summer, and called to see how things were going, they would first ask how Codi was before asking how my sister or I were doing! They asked every time if they could bring Codi with them!!! And while at work, they consistently ask if they can bring him home while I work, play with him, cuddle with (do all the fun stuff, while I'm cleaning up and feeding LOL).
Well, now that I got a job, I'll be moving out soon, and Codi will be going with me. Just at the thought if it, they get saddened... (still trying to figure out if they'll miss me, or miss Codi
) Plus, my sister is at college, and we hardly ever see her anymore. So they're feeling the "empty nest syndrome." Mom has been thinking about getting a puppy so that she could have something love her as much as Codi loves me (let me just say, she has never been a dog person, until now lol)
A little while ago I had been talking to one of our good customers and they said that their Lhaso Apso had had puppies. So they sent us some pictures, and yesterday, he brought the 3 males in. Well, to not go into too many details, my parents ended up taking two of them - one for my mom and one for my dad!!! Very very very unexpected, but I think its perfect!! After being married for 24 years, there are always problems off and on, and I think that this will bring them closer.... obedience classes together, walks, going to the park.... just perfect.
So, enough with all the words (but I think the story helps) here are the two new monsters!!! (Codi isn't too happy, they breeders said that Codi looked just like the Mom, and so for some reason, they keep thinking that Codi is their mom and it looks like trying to nurse him, and then start to hump him! Codi doesn't do anything, except for run to me, so I don't know how to make him more dominate, hopefully it'll come out somehow... )
Ok, here are the two monsters! (again)
This is Dad's dog, Hemi (Dad is a huge muscle car fan, Hemi is a type of engine, one that he actually has in his car, lol) It fits very well for this little guy is quite rambunctious
This is my Mom's dog, unnamed. She has always wanted to name a dog Bubba ever since she was told not but has not gotten the chance to. But I think that Cuda is a quite name, so when calling, Hemi! Cuda! (type of super cool old muscle car lol) We'll see what she names him....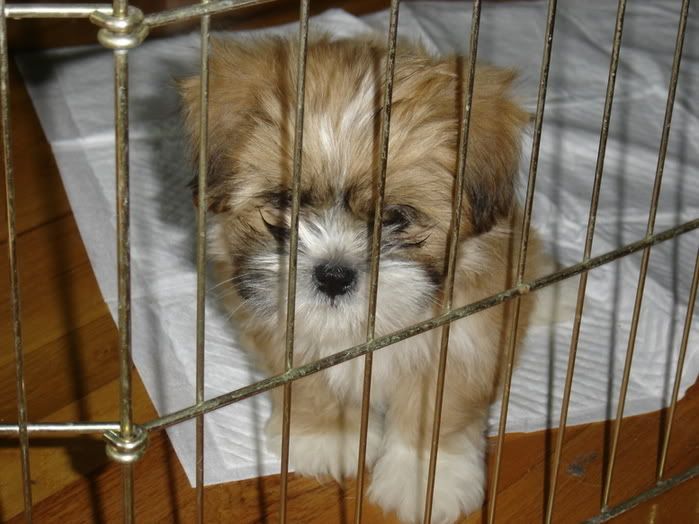 And then here's one of them together... Sorry for all the bars, but they were in the ex pen and were actually sitting kind of still for a second.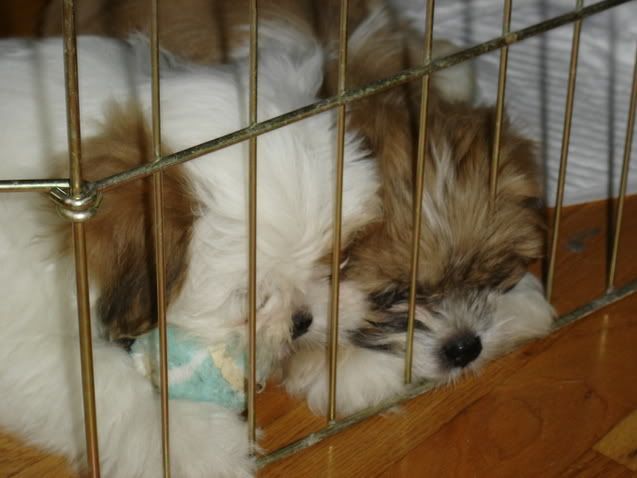 They have so much more energy than Codi did at that age! And, they are way more adventours. Have no problem going up and down the stairs, or chasing the broom... they are quite the little monsters. It shall be very intersting!!
Ok, enough talking, time to get back to Thanksgiving prep! Have a great one everyone!!