Discussion Starter
·
#1
·
In a few weeks, my life is going to change! LOL I'm anxious and scared. My apartment is so still a little empty. I guess I need to start getting stuff ready, huh? LOL. I am moving sometime after the 20th. UNBELIEVABLE!
I went to orientation last week. I saw only 1 person that I will be in class with. I almost had to take an English/Literature class AGAIN! I was like, "I've taken 4 ENG classes already and NONE of them is transferrable?" But after lots of whining this girl helped me and we determined that 2 of my "lower" division Lit. classes equals to there 1 "upper" division. Phew!
Another good thing is all my classes are in 1 building except for maybe 1. I have to pick on more class to be a full time student and I don't know what to do. This is my first time in afew yrs taking a full load and they told me to take something that will go towards my bachelor's like Western Civ, but I'm scared it may be too much for me. I was thinking of taking a BS class, if ya know what i mean. That may be stupid though. We'll see.
My car! It's not fixed yet! My dad had it this WHOLE summer and it's still not fixed. I am having such a hard time doing the things I need to do. Like getting a physcial and getting all my shots! And aren't the smallpox, typhoid, and polio vaccinations the shots you took when you were a baby? I don't remember.
And can someone tell me why they need a phsycial and medical records of my siblings? I can understand my parents, but why them? ARGH.
Just wanted to share with ya!
Here's my living room. I took this BEFORE I put the tables up.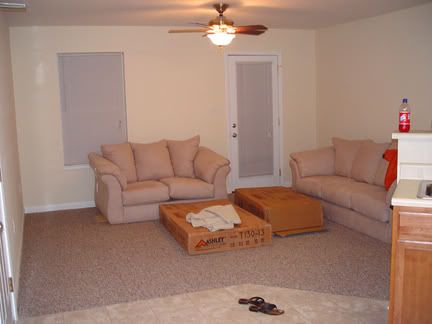 Here's my kitchen
It's completely brand new. If I had to complain about anything, it's that there is too many bugs at my apt. at night. BLAH. Otherwise, Cool huh?