Lately, I have been having trouble sleeping through the night. So oh, I don't know, around 1 AM, I am wide eyed and ready to get up. So I do, but I forget, that my poor little ones follow me wherever I go. Mia sleeps on me, or right next to me, and Leo sleeps in his cave bed. So, the moment I get up, of course Mia does too, then I hear a little prance, and it's dear Leo, up and about out of his cave bed.
I get up, go to the kitchen, and awwwwwwwwwwwwwww just broke my little heart, seeing my two little darlings up with me. Then I make matters worse, and start taking pics of them. Poor things. Bad Mommy
Geez, Leo, Mommy is up awful early again, you should have stayed in your cave bed.
Leo, you get some rest, and I will to, until Mommy is done doing whatever she is doing, at this gosh awful hour in the morning.
Poor sweet little babies, fast asleep. I feel so bad, but yet, can't help but take pictures of them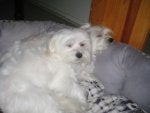 It's okay Mommy, we'll wait for you, and we still love you even though you sleep walk in the wee hours of the morning, guess that's why you have a bed for us in every room. Just glad you didn't wake Daddy up
:w00t:
View attachment 89116
Well, I think it's time for me to take these precious two and all three of us get good rest. Poor little things. Isn't it amazing no matter how tired they are, they still just want to be with you :wub: Poor little things.
Sweet dreams everyone.