Discussion Starter
·
#1
·
For those of you that don't know Oreo she is my parents dog. She will be 15 in January.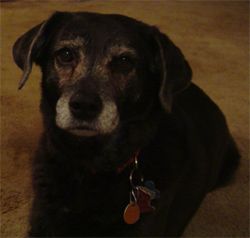 Last Decemeber she had surgery to remove some fatty tumors and survived the surgery but the recovery almost killed her. She stopped eating for like a week. She was diagnosed with the beginning stages of heart and kidney failure. She has been doing pretty good since then on a prescription dog food.
My mom called me today to tell me that Oreo throw up some white foam bile 5 times this morning. When she let her out to go potty she stood and stared at the tree for few minutes and then kind of fell/laid down and didn't move. My mom thought she was dead. I guess after a few minutes Oreo was fine but couldn't get in the house. That part isn't uncommon so my mom tied her up outside until my dad got home a half hour later. My dad said that oreo did the laying down not moving thing a number of times today. I just talked to my mom a few minutes ago and she said Oreo keeps passing like she is in pain. She won't lay down and when she does she has a hard time breathing.
My mom is going to call the vet in the morning and see what she says. We don't want to put her to sleep but if her quality of life is going to be bad or she is going to be in pain we will do it. If the vet suggests this I'm going to postpone Nikki's sugery a few weeks and head home on Thursday night (I'm scheduled to have off Friday).