Discussion Starter
•
#1
•
Our Secret Santas were
Jennifer, Bailey & Sophia!
And WOWZA! :w00t:
What a fun time we had opening all of the gorgeous and thoughtful gifts!
I left the box open for a day to let Paris & Coco get excited about what could be in all the pretty packages!
Here is the box (up high on an IKEA storage container)
Didn't want them peeking before it was time!
Look at these adorable bone-shaped puperware!
Filled with loads of goodies!
Paris is thinking
"Hmmm... P-A-R-I-S spells Paris! They're for me!
And C-O-C-O spells Paris, too! All for ME! Sorry, Coco!
Coco & Paris' favourite toys are the stuffing free animals with squeakers!
Our buddy must have picked these out specially for them!
Coco is mesmerized by the Rabbit!
Okay, Coco, you can have the Rabbit!
When should I tell them, that they EACH get their own Rabbit toy?
It is fun watching them play Tug-O-Wabbit!
How thoughtful of Bailey & Sophia!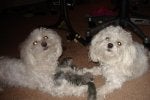 I just adore these Susan Lanci satin night shirts!
Aren't they gorgeous PJs? We love animal print.
Oh dear, my models have fallen asleep in these comfy jammies.
A sophisticated Cha Cha Couture dress.
They each received one.
Coco is a sleepy sheepy in her new snap up jammies!
ZZzzzz! With her new toy!
We can't thank our SS enough! For all their thoughfullness!
Thank you ever so much, Jennifer & Bailey & Sophia!
Love & Puppy Kisses from Paris & Coco!
:wub2:
More pics will be posted asap with everything shown!
They also sent a Dog First Aid kit!
And some neat storage containers in a pretty pink pawprint & peace sign design.
And matching yellow shirts and matching pink shirts!
Happy Holidays!