Discussion Starter
·
#1
·
And she's still there!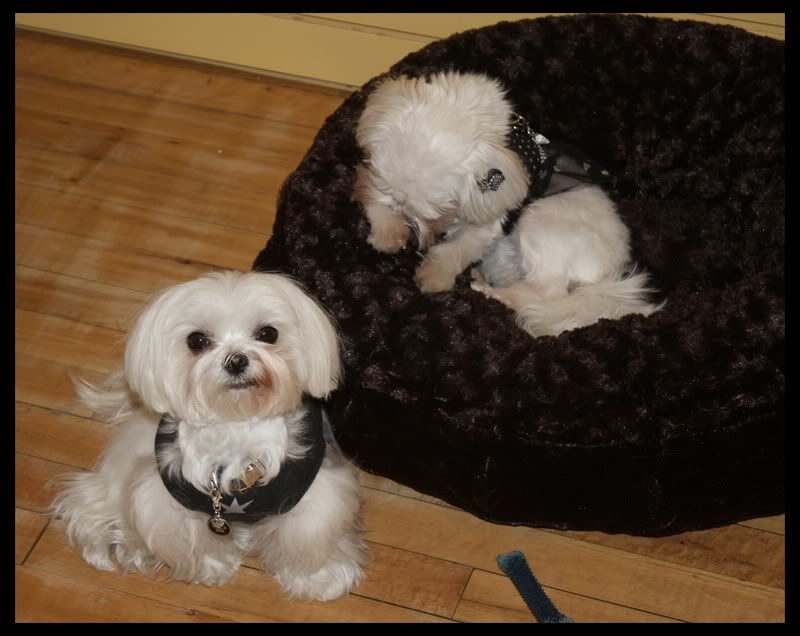 Doesn't look like she's planning on leaving anytime soon. Maybe if I get in my bed, she'll get the hint.
Maybe a bed buddy's ok. I think I'll keep her.
Everybody, please meet my new little sister, Callie.
Introducing the newest member of our little family....
Cher-Chien's California Dreamin. aka Callie.
I met Cheryl Filson at the Dog Show in Chicago a few months ago and she had Callie in the ring. I fell in love with her temperament and told Cheryl to please remember that temperament because it was exactly what I needed for a little girl here at the store. So last week I get an email from Cheryl telling me she doesn't think Callie will get big enough and wanted to know if I was still interested in her. LOL Ya think? Cheryl had wanted to keep her for her own special little girl, even if she wasn't planning on finishing her due to her size. So she cut her down really short and cut off her beautiful top knot.
However she found a little boy at Nationals she wanted to add to her breeding program and has always wanted to make sure she never had more dogs then she could give the proper time and attention to. So she made the very selfless and loving decision to let me have her. :chili: We just have to grow out that beautiful top knot and legs. Darn...I was really looking forward to not having to grow out a top knot.:blush: Here she is pre-hair cut.:wub:
She's doing sooo well! She and Jett are getting along, playing, and sharing beds. Zoe believe it or not, is doing surprisingly better then I expected. I made sure to bring in the type of temperament so she would not feel her position in our family was being constantly challenged. She's not loving her yet....but she has allowed Callie to touch noses on several occasions. So I'm very optimistic.