Discussion Starter
·
#1
·
Hewwo Aunties! It's me, Tessa. Me 'n Sweetness helped Mommy finish shopping for our Secret Santa buddies and we're vewy excited!
We bin watchin' da morning news while Mommy gets weady for work and dey bin talkin' bout sumtin called Pay to Pway Politics. It got me tinkin'. We doesn't know wut Politics is, be we can certainwy pway and if we wuz to get paid . . . :w00t:
So here's how I tink it's s'posed to work: I gots sumtin' of value – I know wut's in dese here piles of Secret Santa pressies and I know da names of the buddies dey're going to.
For Buddy #1
And for Buddy #2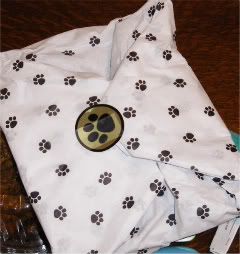 You, too, can have dis same information and see if dey're going to your house! Dat's da pway part. Da pay part is treats – preferably Zukes or Charlee Bear. Send dem to . . . oops. Mommy's coming. :new_shocked:Gotta go!