Discussion Starter
•
#1
•
hey guys,
Molly's mom gave me the idea to make a new thread here in SM to share the Snowy's story of how he became a water lover. I have clips and pictures attacheed with this post to show what I mean in his story and to entertain you guys while reading (you can just skip them if you want too
especially for the old SM members who already saw few of them)
First of all, I did not teach him anything; it all started when:
Snowy fell in the pool by accident when he was 4 months old. He was following my sister while she was walking; she got close to the pool (Snowy as well) but then he was way too close and fell. I was there; ran to the pool to get him out. I remember myself being so scared and worried and that time. Snowy, on the other hand, swam calmly to me
That was the first time I saw my malt swim.
Then, my little brother played a role. You see, my little brother loves to play with his toys in the pool. He put his boats, balls and other toys in there. Snowy LOVES to play with toys, and seeing the toys in the water used to interest him. He was being driven crazy to know that he couldn't reach them. All he used to do at the beginning is bark at the toys and try to get them
See this short video of Snowy and Barny, the farm dog, to see what I mean:
Snowy a stage before becoming a water maltese retriever
I shared it in youtube a year ago
Snowy kept on acting in that way for a while until one day (for my shock), he jumped into the pool and started swimming towards the toy that he was after
I could not believe my two eyes when I saw him. People who I told about him couldn't believe that too coz he not only jumped on his own and swam, but also retrieved the toy
I was like: is he trying to be a labrador retriever or something....
Here is what I had to share of him retrieving a ball with everyone for the first time
Snowy the maltese-retriever
so that seeing toys in the pool was one thing that make Snowy swim.
Another thing is when the weather becomes really hot. Snowy jumps into the pool and takes a short swim --> here is a click to proof it
It's getting hot in here, so lets take a short swim
He not only loves to swim in our pool, but also in the big ocean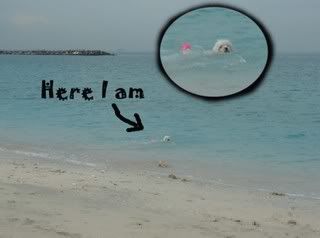 take a look at this video and you will see Snowy having fun at the beach, then swimming in the sea
Snowy at the beach
Ocean and pool is not enough. Anything with water, Snowy will love. I remeber once while we were on vacation in Germany, we were in a boat in a BIG lake. There were ducks who approached our boat. Before we knew it, Snowy jumped right into the lake, started to swim and chase the ducks away (too bad coz I dont have my camera with me to show you) Besides, I did not expect that from him. I was worried (as always especially coz it was a big lake and i had the idea of *what if he got tired from swimming*) and chased goofy Snowy with the boat until I reached him and grabbed him out from the lake to the boat...
so yeah...that is it for his story and his swimming adventures
Thanks for reading,
Kat