Discussion Starter
•
#1
•
*****Warning - somewhat disturbing pics ahead*****
Well, good news and bad news with this one. To recap, for MONTHS (and I mean months) I've been dealing with Caira and a skin infection where she has open oozing lesions. She has been on antibitoics for months
Good news?
Skin is almost all cleared up
This is what it looked like 5 weeks ago
and today, after a month of Simplicef
The bad news?
I still can't take the cone off of her
She's even worse than before, except this time it isn't her skin, it's her eyes.
I took her to the vet today and he thinks it's allergy related (still) but even with the cone on, she has been digging at her eyes so now she has upgraded to a bigger one. It's mostly the right eye and she has done significant damage to the skin around her eye so it's now green, goopy and infected.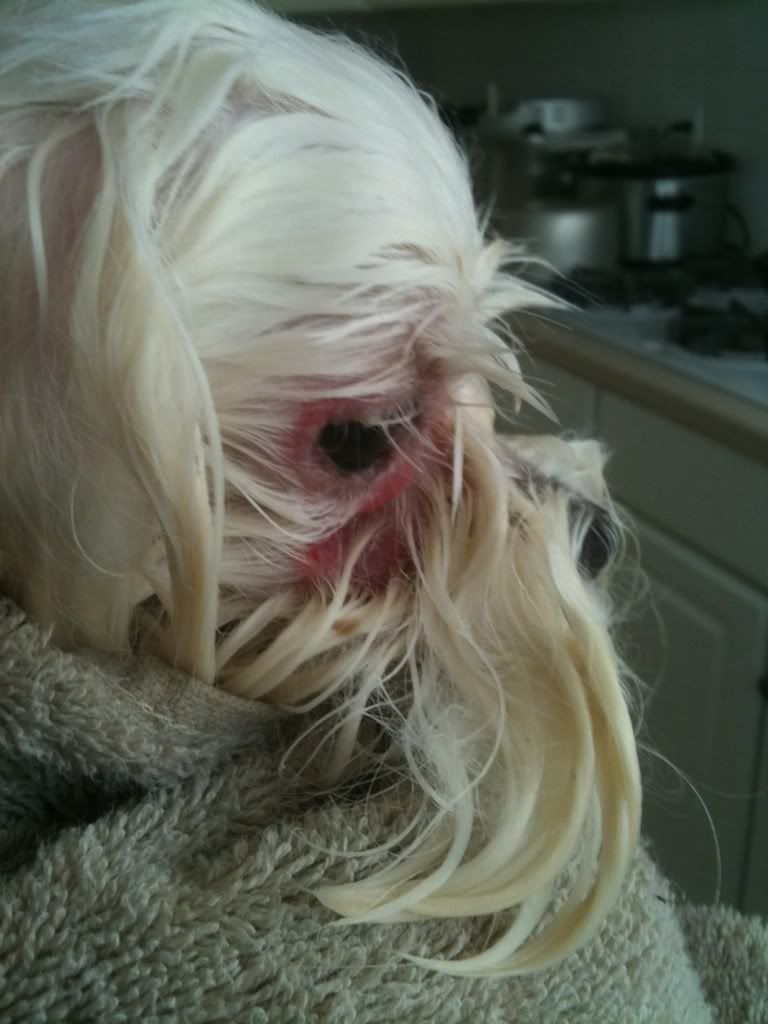 during a a bath today
You can see how much worse the right eye is
And while we were at the vet today. Her hair cut is atrocious as i've had to cut (as in, hack) more and more out of necessity but her bad hair cut is the least of this poor thing's problems. :crying:
Here has been her long course of treatment:
3 weeks of Lincomycin with 2 weeks of Predisone
(no change)
3 weeks of an anti-fungal
(no change)
2 weeks of Clavamox
(no change and getting worse with new lesions on the Clavamox)
4 weeks of Simplicef
(finally the lesions cleared up)
and now....
4 more weeks of Simplicef. He wanted to put her back on Clavamox but since it had done nothing before, I didn't want to waste that time for no results, so I requested the Simplicef again She is also back on predisone and eye meds.
I have not started the colostrum that was recommended because i didn't want to put her on too many things at once, where I wouldn't know which thing was what cleared things up, but now I won't have that problem and will start it.
She has been on a strict allergy diet (rabbit and potato kibble with potato treats) for 6 weeks. I am taking her to the dermatologist again on tuesday for a recheck but I didn't want to wait until then to have her examined, so I took her back to my vet again. The dermatologist is only in town twice a month so I don't have the option of taking her in to be soon sooner.
I had never truly appreciated how awful allergies can be for a dog - now I can. She has had to wear a cone 24/7 for at least 5 months, I just want to get her to a point where I can take it off!
Thank you for reading and for all your inquiries and well-wishes on my sweet girl. I hope this gets completely cleared up soon! Not only has it been miserable for Caira, it hasn't been a cheap situation
On a positive note - Lois is due to have puppies next week :chili: