As you know, yesterday I posted how my kids got stood up by sweet Becky. Becky, was having a good ole time playing fetch with the neighbor, she still did give my babies some time, but was understandably and happily more interested in playing fetch. Well, Mommy saw today, Becky was outside with her owner, and thought, hmmmmm good time for a visit :thumbsup: and Mommy will just fix that :HistericalSmiley: Plus, it was time for the kids to go for a stroll. (Don't worry, Becky when in her yard, is always on a long lead)
Becky, Becky, I came to visit YOU today
:chili: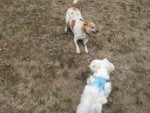 Becky, just a wee bit happy about the visit
View attachment 89381
Awwww and my neighbor ran in to get some treats for my kids :wub: What I LOVE about her, is she brings out a variety, let's me know what each treat is, that they are all natural, and let's me know all the ingredients, and then ask me to pick which is best for the kids. How sweet is that?
Becky who?
Oh no, Becky's Mommy we actually came to see you :innocent: Is that a treat you have?
Oh yummy
Thank you Becky's Mommy that was really good. Could I have another?
And can Becky have some too?
Becky getting some instructions from her Mommy :blush:
View attachment 89386
And of course, Leo has to get a kiss before ending the visit
:wub:
As Jackie (JMM) Always says, "A good dog, is a tired one
" :thumbsup:
Time for a nap everyone, zzzzzzzzzzzzzzzzz
View attachment 89390
Hope everyone enjoyed their day
:heart: