Discussion Starter
·
#1
·
I decided to go whale watching the other day out on the Monterey Bay. I have been waiting for about 4 years for Blue Whales to show up in the bay and they are here and have come in very large numbers. We aren't sure how long they'll be here so I left work early on Tuesday and went out. It was an amazing experience!
I've seen whales before, but never a Blue! They are the largest creature EVER on earth (including dinosaurs) so I have been wanting to see them! We went out and saw around 12 Blues and while watching them on the left side of the boat I saw some Humpbacks breaching off in the distance on the right side. After following a few blues around we went looking for humpbacks and found a very friendly one. The friendly one was probably born this year but was investigating our boat - humpbacks often do this. We also saw two groups of Risso's Dolphins. On the way back in we got to watch the sunset on the water - it was fantastic! :cloud9:
I've now seen 5 species of whales, 5 species of dolphins and 2 species of porpoises. I want to go out again in a couple weeks in hopes to see some more. I am dying to see Pacific White Sided Dolphins (My favorite) and maybe some Northern Right Whale Dolphins. They have also been spotting Minke Whales out in the bay, so I'm hoping to get a good morning trip soon!
Here are a few pics I took and a couple vids! Hope you enjoy!
Risso's Dolphins
Blue Whale (only about 1/3 of its body)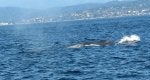 Humpback Whale
Humpback Fluke
Sunset on the water
More Pics
Video 1
Video 2