Discussion Starter
·
#1
·
So this was our first weekend taking out Elaine's brand new RV. We got there Friday evening and went right to our parking "spot" in stead of off-loading stuff into the convention center. It was fun getting set up and organizing, we set up an xpen outside and felt like real show dog people :thumbsup:. Then we ate dinner (we brought plenty of food) and had a couple glasses of wine. At 10pm Elaine gave Maya a bath - that's when we realized the electrical outlets didn't work! OMG!!!!! so, Saturday morning - no coffee, complete disorganization already, panic! Maya was in the ring early and Elaine was losing everything and a complete mess :w00t:. After she left for the building I got up (I stayed out of her way - it's tight in there)...and got ready the best I could - I couldn't even do my hair (oh great, I never go out without curling my hair!!!) I couldn't bath Ava - not even a half bath - not even just her head - no dryer!!! :smilie_tischkante:. I had to take Ava and the grooming cart and supplies all at once and we were parked in the furthest spot imaginable :blink:.
The entire day was one catastrophe after another, Elaine even lost the her keys to the RV. We were so dis-combobulated we never even took time to eat that day :huh:.
The only bright spot of the day was getting to meet Debbie (Harry's mom) and her husband...and seeing Lawrence and Liz again (Chiara's dad). I just wish it would have been Sunday when we looked better and things were going right, LOL.
Anyway, in the afternoon, the electrical problem was worked out. From that moment on, things were GREAT :chili:. The dogs didn't do any better in the rings, but what the heck. We had a great time. :thumbsup:
Here's a picture I took of it while we were at the RV show a few weeks ago:
Here's me and Ava on Sunday when things were going better. Ohhhh, did you notice the cool top I got????? LOVE IT.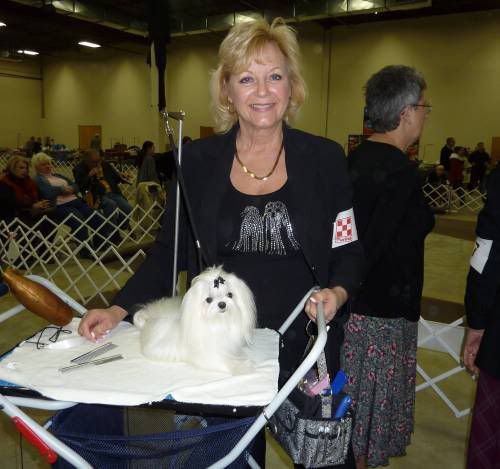 This is my grooming area in the camper - it worked out great!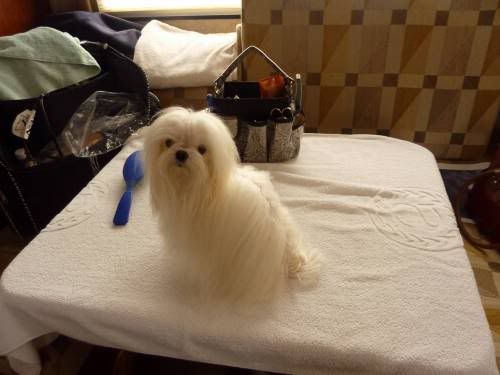 And me and Elaine trying to pose with our new tops on, I put the camera on self timer but there was no place to stand, - we're so wierd :HistericalSmiley:
So I guess it was a success, sort of....it'll definitely be better next time. :thumbsup: