You can clean the area with a gentle cleaner and keep it nice and dry with a little cornstarch combed through.
honestly, you hit it right on Nikki's Mum
gentle cleaner, DAILY or TWICE daily if you can and you need to keep the hair out of the eyes...so you either need to keep that hair around the eyes trimmed, or you need to start banding it, when it gets long enough to fit into a band between the eyes..like this: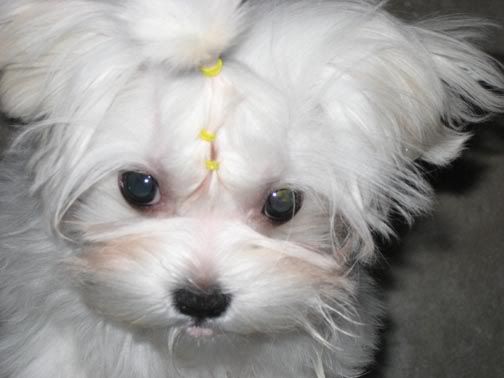 Ritzy had bad tear stains before I got her. (see photo below, she was 6 weeks) The above photo was taken when she was 4 mo old, ~1 month after getting here. See how light the stains got? I used Anna's products (which I have used on 4 dogs/puppies and it always works, just takes DILEGENCE and time, but you can use whatever you want, you just need to DO it, daily!!!)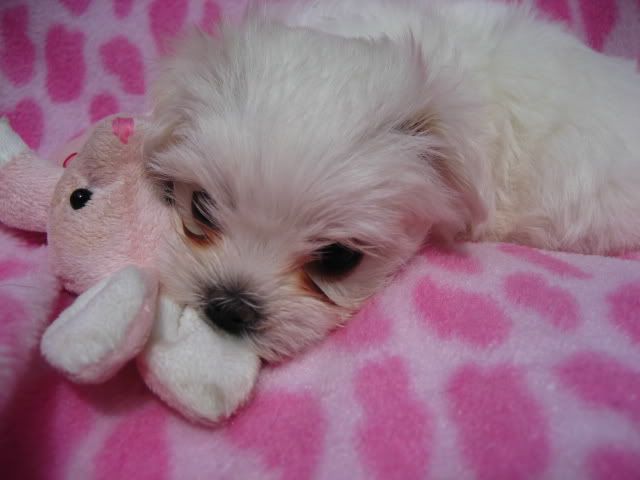 They stayed this bad, if not worse, until she came to my house. So, just keep the area cleaned with a cleaner (don't use the products with anbiotics, you do NOT need them) and I don't think that tear staining as a puppy is always due to teething... many times it is the hair in the eyes.
Pictures of your baby please
))
Karla and Girlz